Despite being a small island Barbados offers a lot of diversity – also when it comes to beaches. Whether you just want to hang out or are looking to improve you surfing skills – There is a beach for every purpose. We cannot feature all of them but picked a selection of those we like best. If you like to explore more (beach and non-beach activities) please check out our guidebook:
https://travenius.guide/product/barbados-travel-guidebook/
Crane Beach – The Famous One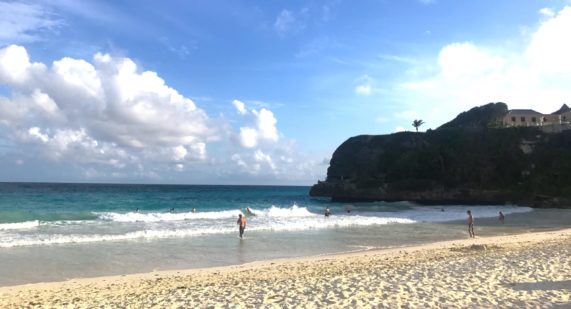 Sink your toes into the sands and sparkling waters of Crane Beach and understand why this tropical paradise is considered one of the island's most beautiful beaches. Stunning cliffs, pink sand and powerful breaks are ideal for boogie boarding. This shoreline screams romance, so grab your lover's hand and skip through the waves that honeymooners have been buzzing about since the nearby Crane Resort opened its doors in 1867. We have a few tips and tricks for an extra special day. Firstly, you don't have to go through the resort, which may charge a fee to get to the water. At the very bottom of the ship cranes (off the roundabout) there is lane parking. It's best to reverse down, as you cannot turn around at the bottom. Aside from some little caves, there is not a lot of shade. Make sure you pack really strong sunscreen, a hat or umbrella and bring a ton of water.  There are no public showers to wash off and the only place to buy drinks is the resort, which is quite pricey. Lastly, when frolicking in the turquoise water be very careful and don't go far. There is no lifeguard and if the surprisingly strong waves knock you off your feet, undercurrents can have a strong tow. Most importantly, breath in, breath out and soak up the magical vibes.
Miami Beach – The Local One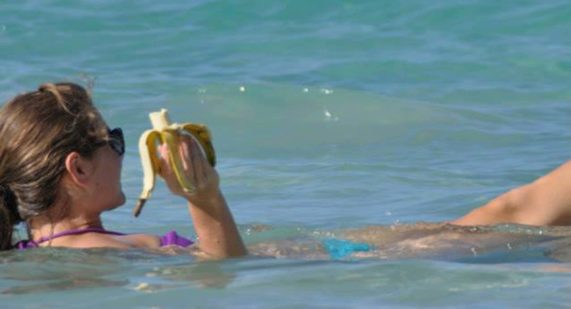 If you're heading into Oistins on the island's south coast, you must make a stop at Miami Beach. A popular spot for locals as well as some travelers, this white sand beach with beautiful sunset views and tranquil waters is ideal for swimming. One side is slightly wavier, which is great if you want to bodyboard. A lifeguard station is well positioned between Miami Beach and its' neighboring Enterprise Beach. A lot of trees line the shores providing you with shade from the blazing Caribbean sun. For additional comfort, you can rent sunbeds and parasols. With its central location, everything you need is just footsteps away. For refreshing drinks and a quick bite to eat, pop over to the Snack Bar. Home cooked Bajan street food and fresh delicious coconuts from local vendors is also a great option. They are not always around, but you usually won't have to look far for a tasty treat. If you start to get a little crispy from the sun, rinse off pick up some goodies at the nearby shopping complex or chill out in the nearby beautiful gardens.
Bathsheba Beach – The Special One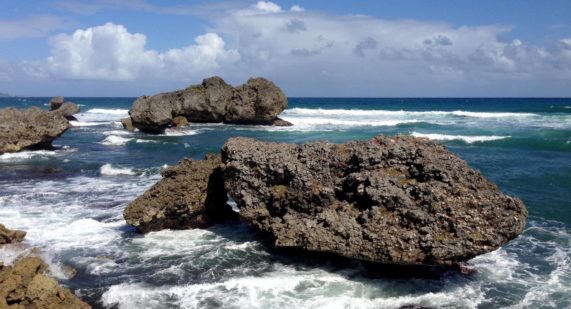 Oh Bathsheba Beach, there's nothing like it. Picture foamy swells off the Atlantic Ocean smashing and breaking along picturesque and sandy shores of the more rugged east coast. Enormous boulders scatter the shoreline which is covered in tropical foliage – a great place for getting into nature and exploring the hills. If you are looking to "swim" we suggest you stick to the "hot tubs", inshore pools that offer an ideal place to dip. Aside from these, swimming in this area can be quite dangerous as there is often a strong undertow and riptides. Bathsheba Beach is home to the renowned "Soup Bowl", a wave that draws in world-class surfers from around the globe. In fact, it is the site of Barbados' top surfing competitions. Part of its charm, the area is not as developed as many other places, but you do have some options if you need a drink or get hungry. Aside from packing a picnic, you can pick up small snacks at Smokey's Shop on the beach or walk over to the Round House Inn for a proper meal. There are no public washrooms at the beach, which is something you'll want to factor in if you're planning to spend the day. Outdoor showers to rinse off sand are available and there is plenty of parking – either on the road between The Round House Inn and Bathsheba Park or in the small parking lot.
Silver Sands – The Active One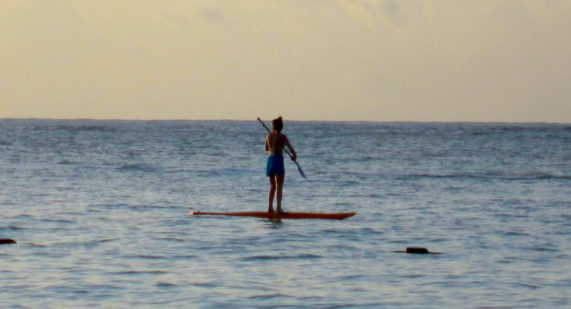 The name already says it all. Just as you might imagine, the sands on Silver Sands beach sparkle against the backdrop of the south coast's turquoise swells. The impressive waves and coastal trade winds, especially in the winter months, is why this beach has earned a reputation as a world-class location for exciting water sports such as windsurfing and kitesurfing. Picnic benches are ideally positioned in the shade and are the perfect place to unpack lunch with friends and family. Children can even play in the small kiddy park. And then there's De Action Shop, where you can rent all the equipment needed for an action filled day of surfing or paddling the waves. If you do plan on taking to the waters by board, be careful as it can be pretty crowded, especially on weekends, and many locals surf quite aggressively, which can be dangerous if you are not swift. We suggest testing your skills during the week when most people are at work.