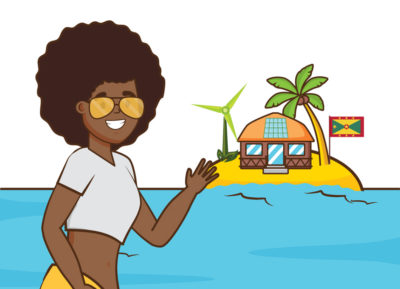 You probably know Grenada for its beautiful beaches, locally-grown spices, lush tropical rainforests, and welcoming people. But did you know that the Caribbean's "Island of Spice" also has some really unique and sustainable hotels? More and more travelers like you are in search of green travel options. They want to have a positive impact on the environment and the local community. The push for sustainable travel is growing and hotels around the world are adapting their products and services. And the Caribbean is no exception. Many Caribbean hotels are finding innovative ways of becoming environmentally friendly without jeopardizing on quality – in fact, even increasing it! We think that's pretty cool, so our Travenius Tips this week take you on a tour of Grenada's greenest hotels.
Blue Horizon's Garden Resort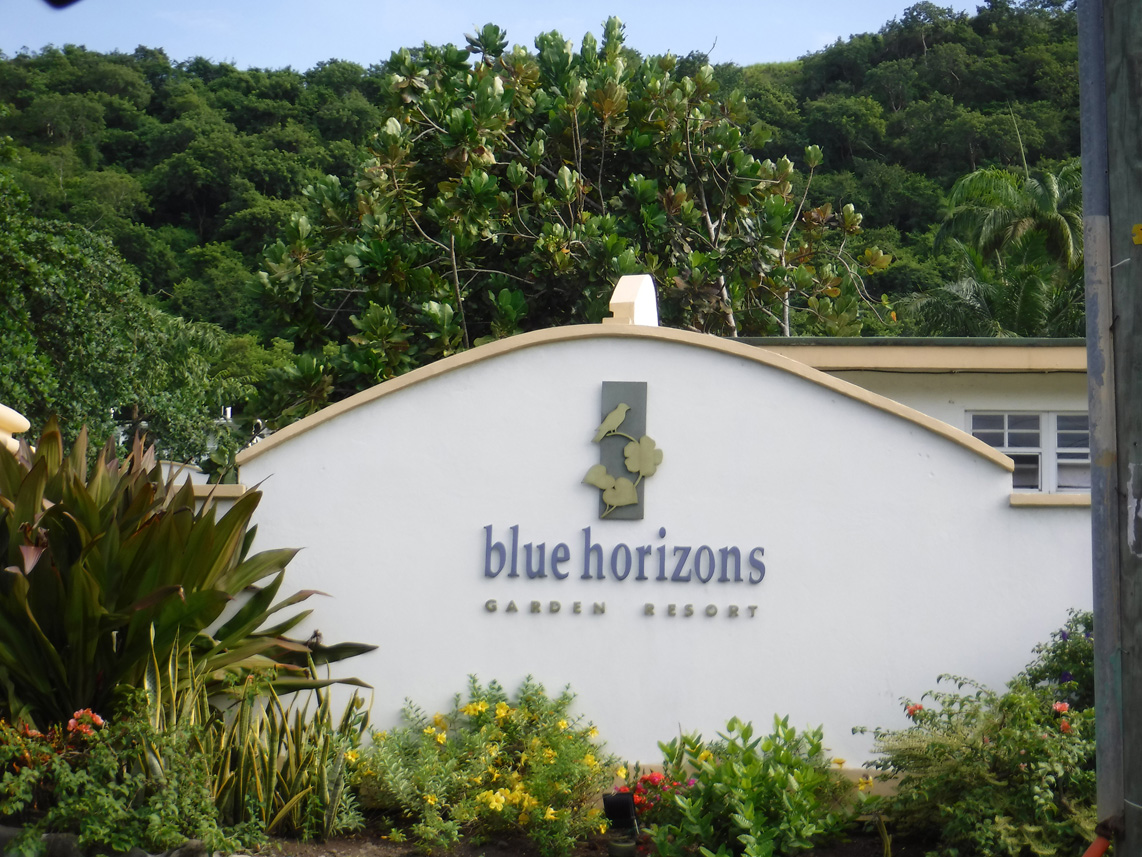 Just down the road from the calm and picturesque BBC beach (Morne Rouge) to the south and the popular Grand Anse Beach to the north, you'll find the Blue Horizon's Garden Resort. It is a super cute eco-friendly haven nestled amongst colorful flowers on a sloping hillside. It has its own unique vibe, is family-owned, offers great value for money, and they will always make you feel right at home – with that warm Grenadian hospitality.
You're not the only one who is intrigued by the thought of staying there, in fact, Blue Horizon's is also prime real-estate for the 27 different bird species who call it home. In recent years, the hotel has really given these birds something to sing about by planting 9,500 indigenous plants, scrubs, and trees, spanning the property's 250 new green spaces. Along with "greening" of the property, they have drastically cut the use of disposable plastics, converted lighting to LED, installed solar water heaters, and much more. All of this is thanks to the committed owner and his team that work hard every day on their "Keeping it Green – Small Effort's Big Impact" sustainability program.
The eco-resort is made up of 32 self-catering 1-bedroom and studio suites. It is the first property on the island to earn the prestigious Gold Level Green Globe Certification and it is far from some basic hippy-lodge. The furnishings are modern and classy and the grounds beautifully manicured. You'll have free Wifi, a flat- screen TV, AC, a hairdryer and the option to dine at the on-site Belle Creole Restaurant and the Aqua Pool Bar – both of which will really tickle your taste buds. Take a dip in the freshwater swimming pool or relax with a book from the resort library. If you want a bit more action than the quiet and secluded BBC beach, Blue Horizon's is also only 250 meters from the more popular Grand Anse Beach – truly the best of both worlds!
Definitely great value for money, suites range between 435 – 756 sq. ft., have private patios, and usually go for around USD 150 – 280 depending on the type of room and season. For all these reasons and more Blue Horizon's Garden Resorts' has earned its spot on our short list of the best eco-friendly accommodation options in Grenada!
Contact:
+1 (473) 444 4316
Grand Anse, St. George's
True Blue Bay Resort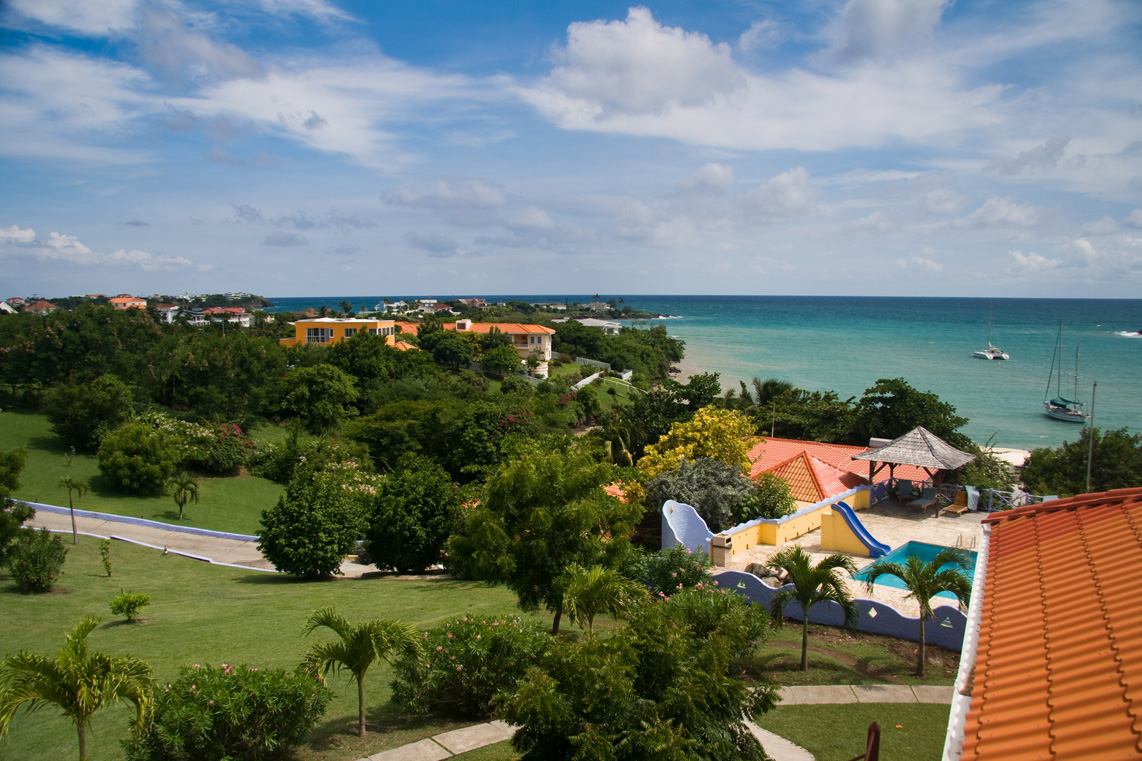 Photo credit: Jason Pratt – flic.kr/p/6BK8Wd
The next place on our list is True Blue Bay Resort – a beautiful boutique resort on Grenada's southern tip. So much more than just a resort, this is the place to be for fun activities, delicious dining, and evening events. They even have their own on-site spa and yoga center. To top it all off True Blue Bay is dedicated to caring for Grenada's special environment – even appointing an internal Green Team to come up with and implement sustainable activities throughout the company.
The resort features tastefully- furnished rooms, suites, and villas – each with its own charm. It is located in a picturesque bay and guests can also take advantage of the free shuttle service to and from Grand Anse Beach. Just make sure to sign up in advance.
The owners have a strong interest in caring for the environment. There are solar water heaters installed in rooms and kitchens. Wastewater is used for irrigation and rainwater is collected in cisterns. They've replaced plastic with paper bags in the boutique and paper cups for takeaway drinks at the bar. Eco-friendly cleaning products are used for housekeeping, and that's only scratching the surface.
True Blue Bay doesn't skimp on providing top-notch service and amenities. There is an on-site restaurant, complimentary breakfast, pool, free Wifi, and comfy beds – so you'll sleep like a baby the whole time. If you wake up feeling like an exciting adventure, the Aquanauts PADI dive shop is located right at the resort. With them, you can do all kinds of water sports and activities. The resort is family friendly and enjoyed by people of all ages. It is also very reasonably-priced with rooms usually going for around USD 175 – 350/ night (three of which are wheelchair accessible).
Contact:
+1 (473) 443 8783
Old Mill Road, True Blue Bay, Saint George's
Maca Bana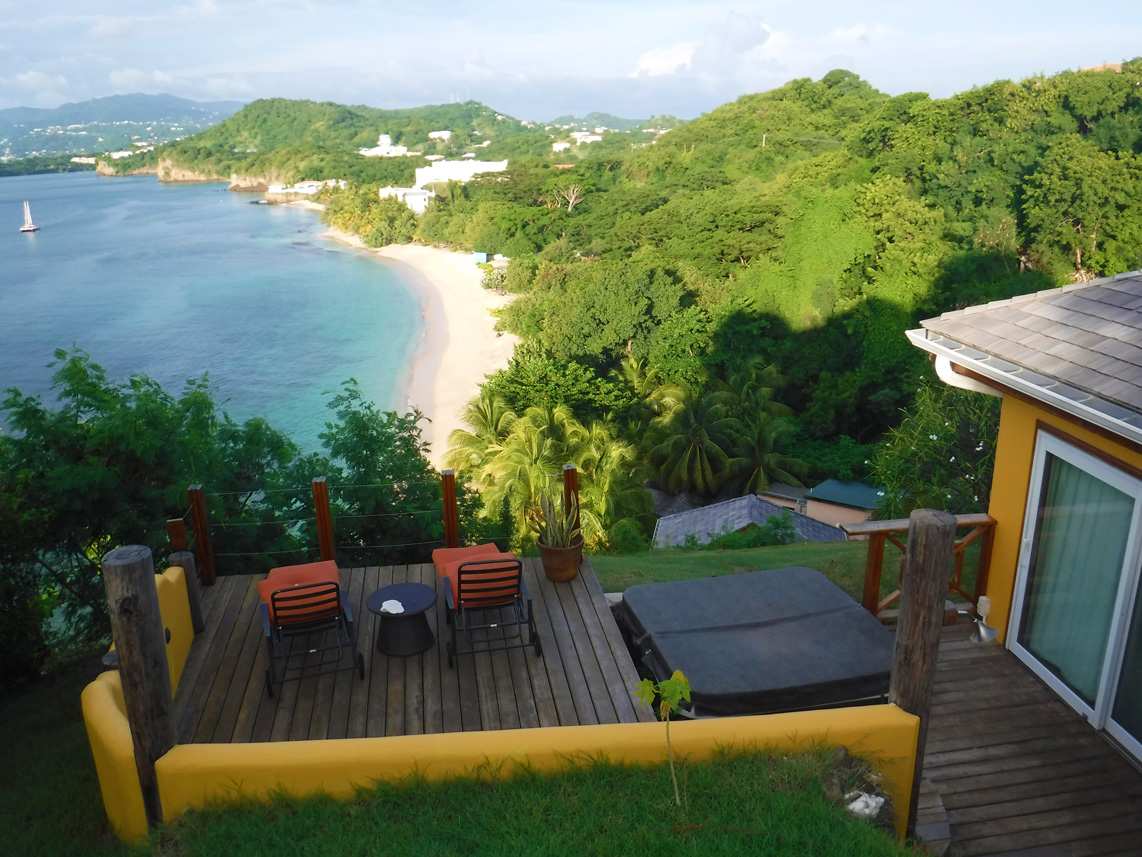 If you're anything like us, then you will absolutely fall in love with Maca Bana and never want to leave. Seriously, it wouldn't take much to convince us to move into this eco-luxury resort and just not go home. Why do we find Maca Bana so enchanting? In a few words: laid-back luxury, comfort, tranquility, sustainability, and a view to die for.
Find Maca Bana perched on a 2-acre hill on Grenada's south-western peak with the most stunning panoramic and sunset views. And naturally, you can experience them right from the comfort of your private solar-heated hot-tub – ah, now you get our point. Look one way and you'll see the beautiful white sand coastline with Morne Rouge Beach, Grand Anse, and St. Georges. Turn around and see the university in the distance or stare off into ocean abyss. Just footsteps down the hill, dine or grab a drink at the oceanfront Aquarium Restaurant.
The retreat features 7 unique 1 and 2-bedroom cottage-style villas. Each is named after a tropical fruit and comes fully equipped with AC, Wifi, private hot tub, and solar electricity. The spacious villas sleep between 2-4 people. They are a bit more expensive (ranging between USD 400-800 depending on dates and villa) but if you can afford it, definitely worth every penny. The grounds are beautifully manicured with lush tropical gardens (including an organic vegetable and herb garden), a rock waterfall, fish ponds, and an infinity-edge swimming pool overlooking the iconic Magazine Beach. Sign me up!
Contact:
+1 (473) 439 5355
Magazine Beach, Point Salines, St. George's